~ US MARINE CORPS ~
Overview
The United States Marine Corps, also known as the United States Marines, is a branch of the United States Armed Forces responsible for providing power projection, using the mobility of the United States Navy, by Congressional mandate, to deliver rapidly, combined-arms task forces on land, at sea, and in the air. We are one of the few invite-only regiments on the server currently, meaning only the best of the best can join.
What Do US Marines Get?
The US Marines on the server currently come standard with a primary weapon and a secondary weapon, with grenades available for LT+.
Primary Weapon:
HK416
The HK416 is an extremely customisable weapon and one of the strongest on the server. With over 8 sights, 2 magazines, 2 ammo types, 3 barrel customisations, 4 rail customisations and more, it is easily one of the most customisable weapons on the server.
Secondary Weapon:
MP-443 Grach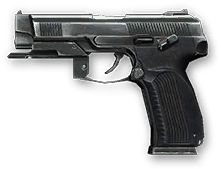 The MP-443 Grach is certainly not anywhere near the best secondary on the server, but it does its job. With 7 customisations, you can tailor it to your personal preferences. The Grach's fire-rate is useful when your primary is out of ammo and you need to quickly finish off a target.
Marine Sub-Corps
When joining the Marines, or seeing other Marines in-game, you may see things like "MCLES" or "MARSOC" at the end of Marine's names. These are part of the Marines Sub-Corps. The Marines currently have 4 different Sub-Corps: FORECON, MCRR, MARSOC and MCLES. FORECON is currently being integrated into the scouts, talk to Pasha if you would wish to be a scout FORECON. FORECON works pretty much the same in both regiments, they are a scouting group made for reconnaissance missions and (of course) scouting. MCRR is the raiding group of the Marines. Whenever there is a raid or event, these guys are at the front lines. Finally, we have MCLES. MCLES is the logistics team of the Marines. Whenever a raid in which MCRR take part in, MCLES would plan this for them. Things such as troop deployment and tactics are MCLES' specialities.
If you wish to learn more and get a more in-depth explanation of our 4 sub-corps, you can refer to
this.
How Do I Join The Marines?
There are a few ways to join the Marines:
Getting recommended by other CO's
Getting invited:
During events or just on the home map, our high ranking officers are watching. We look out for people excelling and standing out from the crowd. If we see you making an impact, we will consider you for Marines. "Making an impact" doesn't necessarily mean top-fragging. As stated above, the Marines have multiple sub-corps, which include MCRR, MCLES, FORECON and MARSOC. If we, for example, see you organising attack squads or leading raids effectively, we might consider you for MCLES.
Applying:
Another method of entry is to apply. We have applications open 24/7, all you need to do is fill out the required fields and a CO of Marines will look through your application to see if you are deemed fit for the Marines. During this application process, you will need to select a sub-corp and use said sub-corp to help out with a raid on a Taliban outpost. You will also be asked several questions about why you want to join Marines, how you are fit for the regiment + more.
Getting Recommended
Sometimes, when other CO's see someone doing exceptionally well in the field or in an event, they might recommend you for a promotion. The same thing can occur here. If a CMDR+ sees you doing well in the field, they can recommend that you be accepted into the Marines. We will then view you ourselves and see how you do and possibly ask if you would like a position in the regiment.